The 2022 summary of procurement technology industry analyst findings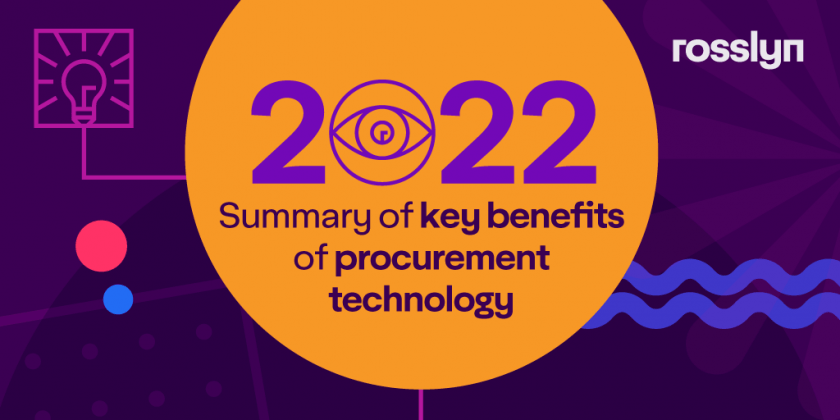 In the digital age we live in today, data is the driving force behind successful businesses. It influences decisions, dictates processes, and promotes better decision-making.
It's for this reason that more and more businesses are buying into the use of procurement technology.  When it comes to data, procurement technology makes the complex, simple.
There's growing recognition for the benefits that unlocked data can provide. With the advent of procurement technology, businesses are seeking to harness that potential and turn their procurement function into a benefit enabler for their company. And with good reason.
Having quality access to quality data opens a wide range of opportunities for a business to drive growth.
It does this by:
Simplifying the complex and removing the pain from procurement.

Allowing you to see what is and isn't working.

Identifying new opportunities to expand.

Letting you see the data behind your spend and cutting unnecessary costs.

Welcoming new ideas and using them to hone your competitive edge.
And much, much more.
In this post, we'll be exploring the industry findings from the past year and summarising the key takeaways on the effectiveness of procurement technologies.
1.  Increased Confidence
There have always been elements of risk and unforeseen circumstances that businesses fear will hurt their supply chain.  Disruptive factors coupled with a fast-moving, volatile market have left many businesses fearing what's next. However, procurement technology is giving buyers a newfound sense of confidence and reassurance.
By utilizing clean, visible data coupled with the benefits of technological innovation, businesses are finding they can improve their functions and feel more comfortable dealing with suppliers.
It does this by:
Providing users with clear, visible data to see how effectively their time and money are being spent.

Allowing businesses to minimize issues and maximize productivity.

Mitigates the risks that arise from dealing with the unknown.

Quickly identify issues and solve them before they worsen.

Respond quickly to changing circumstances and solidify the supply chain.

Ensure governance and compliance are met.

Acquire a comprehensive insight into suppliers' backgrounds.

Report on every supplier accurately and not just the top 20%.

Provide a far more in-depth insight of your procurement spend which can then be concisely relayed at board meetings.

Allow your procurement team to take a far more strategic approach to their cost management.

Provide clarity before taking risks.
All of the above takes away many of the worries that come from supply chain management and instead instills a sense of confidence into the team when making decisions.
2. Empowered Employees
One of the best benefits that come from the use of procurement tech is the potential it has to get the best out of your workforce.
By utilizing procurement tech correctly, companies can empower their employees with the value of clean data.
This opens up a wide range of benefits, such as:
Enabling employees to carry out their roles more effectively.

Harnessing a data democratic environment where everyone feels comfortable using data and is rewarded with the value it possesses.

Ensuring teams don't waste time and resources sifting through innumerable, irrelevant documents.

Freeing up staff from tedious, time-consuming roles.

Optimizing team productivity by delegating different responsibilities across the function.

Getting rid of redundant information that could be harmful to decision-making.

Providing employees with high-quality, relevant information.

Harnessing a more efficient workflow across the function.

Boosting productivity throughout the business.

Empowering employees to react to problems quickly and work off their own initiative.

Improving communication within the business.

Creating a well-oiled procurement function.
Where once procurement teams were bogged down by trawling through vast swathes of dirty data, they can be freed up from this time-consuming task and given more important responsibilities to carry out across the business.
Nurturing a happier work environment that offers more job satisfaction for employees is a great way to get the best out of them, and bring your procurement function to the next level.
3. Innovative Edge
In today's fast-moving digital age, being able to remain agile and react to changing circumstances and processes is crucial to keep up.
Innovation is at the heart of what best-in-class procurement technology offers. Businesses that harness these benefits are much better prepared to keep up with the speed of the market and react to changes.
By utilizing procurement technology businesses can:
Shine a light on the Buyer's Journey and see where there are areas to work on as a business.

Analyze where potential buyers are dropping off on the journey and react accordingly.

Leverage the benefits of emerging technologies.

Improve customer service by heightening the customer experience throughout the purchase.

Make better-informed decisions backed by statistical information.

Promote best practices and improve competitor reporting.

Have quick access to valuable data to inform quick, well-informed decision-making.

Modify archaic processes and propel your business into the future.

Provide a better working experience for your employees and boost employee retention rate.
By having innovation at the heart of your procurement function your business stays agile in the face of change.
This gives you a competitive edge as you stay up to date with all the latest advantages and use them to positive effect.
4. Higher Profitability
The responsibility of a well-oiled procurement team is to ensure they keep costs to a minimum where possible while maintaining high quality.
Using "dirty data" runs the risk of untrustworthy reporting which increases the scope for error and compromises reports and strategies.  Simultaneously, it's important to keep an open eye for opportunities or gaps to exploit. Doing so can help drive new business and growth.
Having access to clean, visible data is one of the biggest advantages procurement technologies provide for businesses, as it can:
Reduce costs by identifying and measuring saving opportunities you may have missed.

Allow you to improve your cash flow by optimizing your payment terms.

Optimize your contract lifestyle management and avoid any unnecessary expenditure rolling over.

Improved strategic sourcing decisions based on accurate analysis which yields higher profitability.

Reveal hidden connections and opportunities for increased profits.

Save huge costs by being agile in the face of supply disruptions.

Increased visibility grants you greater control over your investments.
Despite the costs associated with the technology, often, that cost can be made up upon implementation as processes can be tightened immediately and to great effect.
The numbers involved have the potential to be staggering for businesses if the technology is wielded optimally.
5. Robust Security Practices
Taking care of compliance will always be a major responsibility for procurement teams. You need to ensure that everything within your business is above board as well as the people you do business with.
This means that a comprehensive knowledge of your suppliers is essential in helping your business remain informed and making the right decisions.
Clean data can help you to:
Acquire a comprehensive insight into suppliers' background and quality which is conducive to strategic sourcing.

Respond quickly to changing circumstances and solidify your exposed supply chain e.g.: War in Ukraine

Provide more thorough risk management on both your supply chain and consumer interactions.

Quick access to supplier contact details and whether they are ISO certified.

Ensure governance and compliance duties are met.