How to implement Rosslyn's procurement analytics platform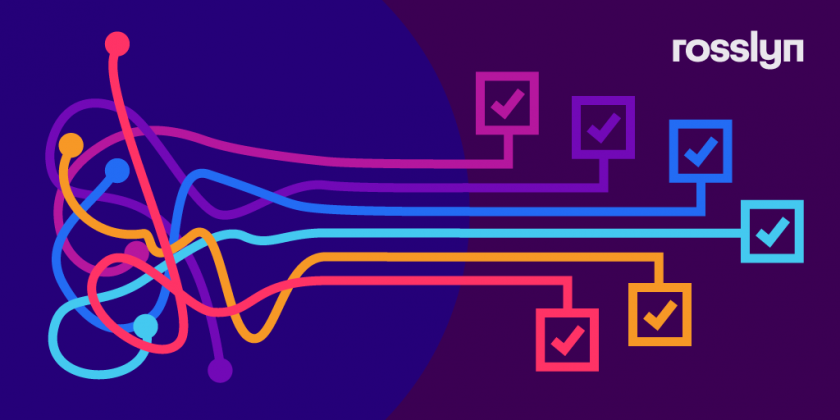 For 15 years, we've been partnering with procurement teams in their pursuit of progress.
During that time, we've helped a wide variety of businesses achieve their goals by unlocking their data, illuminating the value it possesses, and assisting them in transforming their procurement function into a benefit enabler for their company.
Our ethos of asking 'what if' combined with seeking better, more efficient ways of working has led us to the newest upgrade yet to our cloud-based Rosslyn Platform.
This iteration of the Rosslyn Platform is the result of us seeking a simpler way for our customers to extract the truth from complex data.
It now:
Provides easier access to a single source of truth

Allows users to tailor their experience for optimal functionality

Provides an intuitive, easy-to-use interface

Possesses robust security

Uses a blend of people and technology to deliver the results you need
Rosslyn has always been the single source of truth, now it's become easier to find those truths. So, let's uncover the optimal way to implement it for your business.
Your project will be driven by our UK-based project management team, and you'll be assigned the following project resources:
Dedicated project manager

Implementation manager

Customer success manager
Stages of Implementation
At Rosslyn, we use a SaaS-gated framework for successful implementation.
Our process consists of six gates:
Gate 0 – Project Definition and Governance

Gate 1 – Data Extraction and Integration

Gate 2 – Data Transformation

Gate 3 – Data Development (if required)

Gate 4 – Training and Launch

Gate 5 – Value Realization
Gate 0 – Project Definition and Governance
This stage is fundamental to the delivery of any Rosslyn deployment. It defines the project scope and governance controls to be used throughout implementation.
We'll hold data-extraction workshops to enable us to understand the source systems in greater detail, evaluate how they've been set up and define the best method for extraction.
We'll also create a project initiation document (PID) which covers:
Project objectives and timeline

Critical success factors

Extraction methods

Enrichment activities

Filter settings

User profiles/roles

Training requirements

Data validation

Project management activities
Gate 1 – Data Extraction
During the data-extraction workshops, we'll assess your systems and advise on which extraction method is most suitable.
Rosslyn uses a range of methods, from fully-automated tools through to CSV templates or extraction scripts. Our Extract Studio is SAP-certified and works with Oracle, MS Dynamix, and ODBC connections. We provide both online and offline versions of the tool. Online enables end-to-end automation and scheduling for lights-out extraction and refresh.
It can also be installed in an offline mode, providing our clients with control over what and when extracts are completed.
If a source system cannot support this level of automation, Rosslyn can provide template files which can be used to populate the Rosslyn Platform. This puts the emphasis on data collection and mapping onto the client's side, however, due to some of the legacy systems being used it might be the best way to consume this data.
Ultimately, the majority of our clients leverage multiple methods, depending on the source system's age, location and support. Rosslyn will ensure the most efficient method is chosen to ensure accurate and timely data refreshes.
Gate 2 – Data Transformation
Data transformation certifies the collected data is accurate and understandable, and whether it can be improved ahead of launch. During the transformation phase, data from all sources are aggregated together into a single view. This means ensuring data formats are consistent, currencies are understood, and the correct exchange rates are applied for reporting and dimension mapping for filtering.
We'll send you a data-acceptance document which:
Outlines logic used by us in loading data onto our platform

Details any issues found during data acceptance and validation

Identifies steps to take to correct the data

Establishes an agreement that the data is fit for purpose
At this stage, the Rosslyn Platform will be open to user profiles in your business.
You'll need to:
Validate your data within the application

Check data against your source system
We'll provide data-validation guidelines to assist with this.
Gate 3 – Data Development (Optional)
If any development is required as part of the deliverable, we'll scope it independently scoped and analyze any costs. This may also increase the overall project time.
Gate 4 – Training
We'll set up users with online training for the administration of our Rosslyn Platform and the use of the reports. There will then be further online training for categorization.
We'll offer additional training during the implementation stage before it goes live.
We'll set up your business in the Rosslyn Jira environment so support can be administered when needed.
Gate 5 – Go Live
Throughout the implementation phase your customer success manager will be involved to ensure the project is running smoothly. As the project moves into the go-live phase, their role adjusts to ensure you're extracting maximum value from your data.
They'll:
Conduct weekly catchups

Share industry best practices

Update you on the project roadmap

Assist you in identifying cost-saving opportunities
Setting yourself up for success
Our platform is designed to help you succeed. To get the most out of it:
Define your critical success factors

Ready your resources

Ensure all users are comfortable with the platform

Communicate all your feedback to us throughout
Prepare properly for launch by following these steps and you'll be well on your way towards an innovative, benefit-enabling procurement function.