How we engage with Rosslyn customers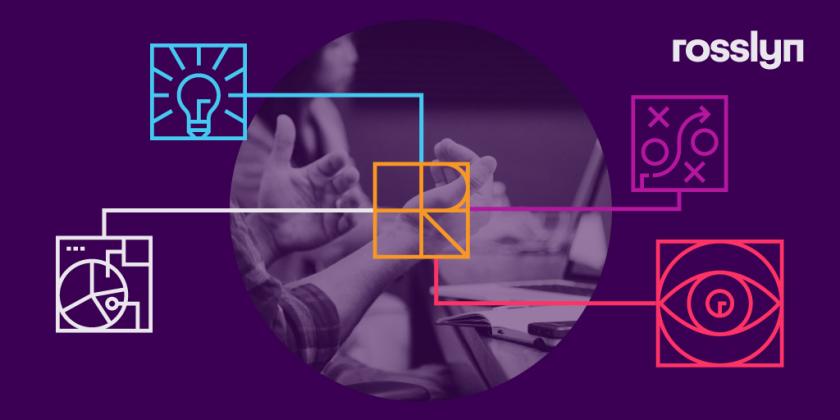 By choosing Rosslyn you're embarking on a transformative journey that will see you unlock your data's true potential.
We're experts at what we do. We have over 15 years' experience empowering organizations with the value derived from having clean, visible data.
Choosing us means that you're partnering with experts who can enable you to:
Unlock better data to inform better decision-making.

Identify cost-saving and profit-making opportunities.

Upgrade your process to yield higher profitability.

Take the pain away from your procurement process.
And much, much more.
We combine data diligence, intelligent technology, and a partnership approach to ensure you extract the simple truths from complex data.  This partnership approach is key to unlocking your success.
Our Values
Technology is only as useful as the people who wield it.
That's why at Rosslyn, we believe in creating a data democratic environment, where everyone in the business is comfortable handling data and empowered with the value it offers.
By extracting tangible value from complex data, you gain the tools to unlock your procurement function's potential.
Engagement Process
Product Demo
The first step we'll take together on this journey is our product demo. Conducted by our pre-sales team, this is where you'll be shown an overview of the end-to-end journey.
We'll cover extraction, enrichment, classification, data mining, and visualization. You will also receive a general rundown of all the features and functions.
We're here to help, so after the product demo, we'll be available to answer any questions that may arise. Then we'll head down the proof of value (PoV) route.
Proof of Value
The PoV experience is designed to highlight the value in your data as quickly as possible
PoV is where you provide us with a sample data set, then we push it through our cleansing, enrichment, and classification processes, before being available for visualization and reporting. This limited set of data will give you an appreciation of the opportunities you'll come across.
We then replay your data back to you, as well as giving you the freedom to play with it yourself so you get a feel for the Rosslyn platform and the potential it offers.
How we assist
We'll deploy several resources throughout this process.  Starting with pre-sales and sales assistance, to our data team and project management.  Your day-to-day contact will be pre-sales who'll assist you for the duration, ensuring you maximize the value from this experience.
Further training
After your successful PoV, we'll continue to guide you along the journey and enable you with more knowledge.
We'll set up further workshops to define the sources and frequency of refresh. This will ensure all users continue to grow more confident with the technology and help build that data democratic environment.
Project Implementation
Next up it's time to carry out project implementation. Our Rosslyn delivery team will set up the extraction and data-mapping process.
Then, our project managers, data team, and delivery team will all be involved to ensure it runs optimally for your business. At this point, you'll have a customer success manager who'll handle the day-to-day relationship.
What you can expect from Rosslyn
We're the partner who will bring data visibility to your procurement team. We have a team of technologists, data scientists, business consultants, and industry experts who can help you with any challenges you may face.
Points of contact
You'll have access to our comprehensive support portal via online ticketing and email. You'll also have a dedicated client success manager for your day-to-day concerns.
Your Security
We understand that this is business-critical data that we're working with, and providing robust security is at the forefront of what we do. That's why we're ISO 27001 and ISO 9001 certified.
We also leverage Microsoft Azure to host our services. This removes the need for costly hardware and IT support on-premises and enables us to scale much quicker as data demand grows.  All data is encrypted at rest (AES 256 Encryption) and in transit using TLS 1.2.  We also test data vulnerability to ensure our services are secure against even the newest threats.
Why we're different
We use a blend of cutting-edge technology and passionate, skilled people to ensure your procurement teams are equipped with the right tools and data to positively impact your business.
We pride ourselves on our data extraction and aggregation capabilities, taking the pain out of the process and empowering you quickly.  Our Rosslyn platform has a modern, intuitive user interface that enables everyone to work with data, which nurtures a data-democratic workspace.
All of this empowers you to improve decision-making and yield higher profitability through cost-saving and opportunity-finding insights.