The journey to the Rosslyn Platform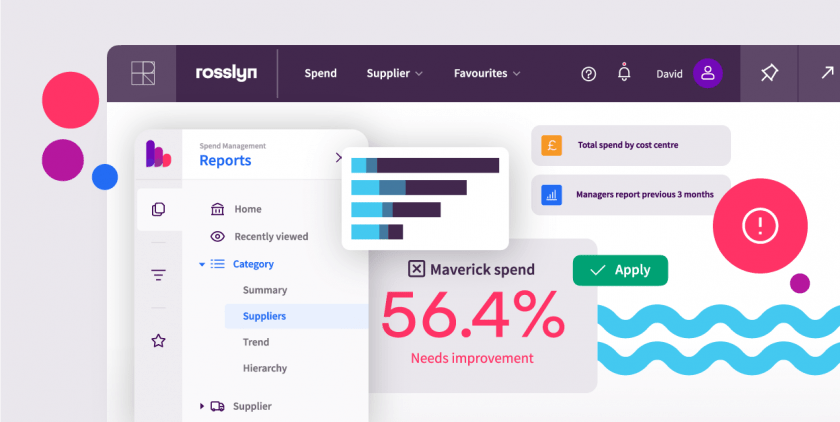 At Rosslyn, we're relentless in the pursuit of progression. Curiosity has been our foundation these past 15 years, and the latest Rosslyn Platform is a testament to that ethos.
To enhance processes and create better experiences for our customers, we needed to listen to their feedback. First and foremost, providing access to their data in the simplest most intuitive way possible to help them efficiently extract the maximum value out of their data.
Our UX specialists interviewed customers and stakeholders alike to discover what needed to change. We noted pain points to solve before we could further tailor our approach to fit our customers' needs.
That feedback allowed us to identify several key themes to focus on for our new and improved Rosslyn platform, including:
self-service
customization
user adoption
collaboration
predictive/intelligent insights
simplicity
best of breed UX
role-based views
What the Rosslyn Platform can do for you
1. Simpler layout and navigation
We made several key improvements to the way you can work with your data, including:
Simplified layout and navigation, and role-based dashboarding.
Customizable layout and dashboard widget selection.
Saving and sharing curated dashboards and filters.
Easy-to-use filtering that's persistent across the platform.
Quick access to the full underlying data.
These improvements to visibility will result in more efficiency and yield higher productivity. Additionally, quick access to the underlying data will allow you to make the right decisions, even faster than before.
2. Reveal hidden connections, risks, and opportunities
Rosslyn has always been the single source of truth; it's now much easier to find those truths.
Simplified filters enable users to drill into the data much quicker than before. The ability for users to create custom dashboards helps bring all relevant data together in one place. No longer do users have to sift through multiple pages or dashboards to get what they want.
Illuminating these potential benefits opens a wide range of new possibilities for your procurement function. It will:
Identify problems with current processes and solve them.
Help instill control in your procurement function by removing complexity.
Give you a greater understanding of your organization, supply chain, trends, and demand.
Cut unnecessary costs by avoiding risks.
Identify opportunities that will drive growth and increase profitability.
3. Tailor your user experience and choose how you view your data
At Rosslyn, we cater to all approaches.
When logging in, a filter wizard will guide you, giving you the option to define your defaults to fit your needs. Every time you log in, you're presented with the most relevant data.
We also create role-specific views, so if you're a CPO or a data analyst, you can tailor your world within Rosslyn to improve your experience.
Users have full control over displaying what data points they want. Filtering is persistent across the application, improving the experience when a user switches between data and visuals.
This all gives you and your teams greater control of your data management.
4. Collaborate more efficiently
Our Rosslyn platform allows you to share searches, filters, dashboards, and layouts with colleagues for faster and more efficient collaboration.
By doing this you are building data democracy within the work environment. This is where everyone in the business is comfortable dealing with data and as a result, becomes empowered by the benefits it entails.
You will see visible improvements in productivity as you get the best out of your staff.
5. Sophisticated data mining and classification
Data mining enables users to dig into the lowest levels of data available, all the way to the invoice and PO line item levels. Users can slice and dice data using any dimensions or data points, helping them answer queries and identify opportunities.
It enables classification: repeatable rules can be built using any combination of data points, whether that's material numbers for direct spend or the invoice description for in-direct. Word clustering enables users to identify common words or phrases associated with large groups of spend and easily tag them into the right location.
Our platform allows for:
A single, simplified data mining view that acts as a one-stop shop for all data queries and reports.
The ability to pin, re-order and filter columns with ease.
Classifying data against any data point across multiple taxonomies.
Charting data on the fly with configurable layouts, types, and formatting.
This enables greater control over data management and classification.
Development
We embarked on an agile development program to bring our new platform to life.
In the ever-changing world of procurement, you need to react quickly to keep up. The Rosslyn Platform allows us to develop in an agile fashion, which will bring you more frequent releases and new features quicker.
From the start of 2022, select clients have been beta testing, providing key feedback for us to enhance the platform further.
And it doesn't stop there.
We're committed to bringing innovative new iterations to you on a monthly release cycle. That means keeping you equipped with the latest technological advances as they come in, giving you the edge you need to stay ahead of your competition.
Robust security
Security is at the heart of everything we do.
We're ISO 27001 and ISO 9001 certified and leverage Microsoft Azure to host our services, which encrypts all data at rest (AES 256 encryption) and in transit using TLS 1.2.
Daily vulnerability testing ensures our services are secure against even the newest threats.
Client feedback
Your feedback is what drives us to be better. This is client feedback from those who participated in the beta testing phase.
"Very excited to get my hands on it and roll it out to the team."
Rosslyn beta client
"We can't wait to bring the Rosslyn Platform to our organization and reinvigorate the user base with a simpler, cleaner interface."
Rosslyn beta client
"The closer integration between visualization and dashboards will be a gamechanger."
Rosslyn beta client
"Everything I've seen from a visual appearance perspective looks accessible. Combining the data mining apps makes a lot of sense."
Rosslyn beta client
"Persistent filtering is a step change. No more recreating filters or views between applications."
Rosslyn client