ProcureCon EU 2022 Recap: Why data visibility is critical for procurement teams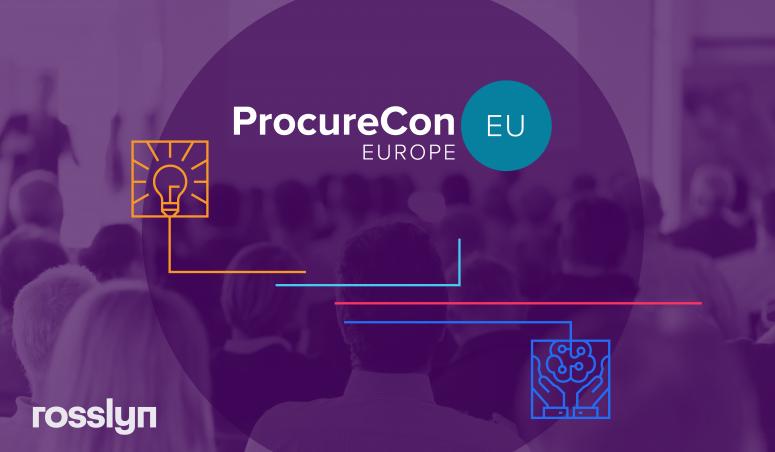 Last month we joined hundreds of procurement leaders at the ProcureCon Europe 2022 conference in Barcelona, the flagship procurement event to benchmark your strategy with the world's biggest organizations. After two years of virtual learning and networking, it was great to see the industry united in person again, with key topics on the industry's radar; Sustainability, ESG, and Risk – to tackle them all you need visibility of data, but where do you start?
More than ever, procurement executives are driving the commercial stability of their organizations. Balancing digital innovations, pools of data, and sustainable initiatives against a backdrop of global instability and spiraling prices isn't easy. Richard Beaumont spoke with John Jordan, Head of Strategy & Planning Procurement from Sony, Carl Maisey, Sr. Manager of Business Intelligence & Analytics Global Procurement from Abbott, and Sam Clive, Head of Product & Solution Engineering from Rosslyn, in a very engaging panel, sharing their experiences around the importance of data and where to start.
How do you deal with data challenges?
After introducing the speakers to the audience, Richard starts with John, who is faced with multiple systems and conflicts. "John, how do you deal with the data challenge at Sony?"
"Data is important and powerful. Spend data gives us visibility and contract data provides compliance. The key is to bring the data together in a structured way to add value. Being able to see all spend under contract and reducing indexation risks and high inflationary pressures that we are facing related to value is important."
Richard continues, "Carl has come across from Finance and has an unashamed focus on numbers. Carl, what's been your journey in Abbott and how are you tackling that?"
"We're trying to build a big data lake with as much data as possible and get everyone to work from the same data pool as this avoids arguments about who's got the correct data. That just wastes time. Creating a single source of truth to make better strategic decisions is key. We're not fully there yet, but that's our vision."
"Whenever we hear the phrase "data lake" as a source of truth it's not as straightforward. How do you tackle bringing it together in the first place to then do anything with it?" Richard asks Rosslyn's, Sam Clive.
Sam explains, "One of the biggest challenges we see is getting a handle on that data and all data sources. We often work in all sorts of geographies and across many IT teams. They don't necessarily understand the context of the data either, consequently, you can fire off a request, but what you get back wouldn't be that useful. The idea of bringing it all into a central system is great if the structural process is correct. If you have a data lake but it's missing data points and valuable information, it can take an awful lot of time to get it fed into that process. This is where we see a lot of time and effort going in from the Rosslyn side to make sure that when we are getting data from source systems, we are pulling it in the right way and in a repeatable way as well."
This raised a question to the audience to see who's confident to swim in their data lake. Not many hands went up. Richard: "The rest of us deal with 500 spreadsheets, and downloads and are trying to put it in some massive pivot tables and guess it."
What's the process of pulling in the data?
Richard explained that he tried this approach in the past with spend data and didn't get there. Reconciling some of the spend data is just one of many things. He raises the question, "Practically, how do you pull together external and internal data to create a picture? Where do you even start the progress?"
Sam explains that you start with the spend data and it doesn't have to be perfect. "As long as you use the 80% / 20% rule. If you've got 80% of that which you can get your hands on and understand, it's still a risk without the 20%, but once you've got a good handle on that data, the next step is to go after those 3rd party sources, additional internal feeds and bringing them all together. That's where Rosslyn comes in and helps organizations get that first foundation step correct so that in the next step you can explore other sources and bring them together."
Carl nods in agreement. "The center is spend data and then everything after that is hinged off that data and that's what we're focused on at Abbott. We are a big company with over 100 payment and purchase systems, so trying to collate all of that together is complex but you have to start with the spend data."
John also agrees that spend data is very important and so is the contract data. "It's important to know who we are spending our money with and if we don't know that, I don't know that I can make a good decision on a strategic sourcing event. But if you don't have the contracts in a good repository, that's just as important as spend data, because you need to be compliant with those contractual obligations."
Thinking of the priorities of a spend project and contract data, legal things are coming into play, which sometimes stamps a big boot over all our plans. A side question was raised; "Over the last couple of years, have you had to re-prioritize your approach to which data you clean first because of what's happening in the supply chain, etc.?"
John explained that at Sony they had to introduce other systems for reporting to mitigate risk, making sure they buy from a decent source and have their supply chain in those systems. Mixing them without the spend data would be impossible.
Carl answered with a yes and no. "At Abbott, we had to consider new circumstances. But ultimately those teams that deal with matters like sustainability, are heavy users of our spend data. There are calculations they can make to determine how much money we spend on freight and which costs equate to a certain number of emissions for example."
What's the ROI of using a procurement analytics tool?
Richard picked up on that point. "The reason we get data is that it fuels people to make better decisions. By investing into obtaining clarity of your data, what are the tangible benefits that Abbott would gain from a business and business growth point of view, from that visibility that comes from it?"
Carl believes that we've all struggled with that, "When we've come to the table and said, "if you want a big data lake for this investment, the big question is; what's the ROI?" One area we think is going to be strong is compliance audits. By bringing together all your data we believe we can improve something that isn't particularly sexy - AP Auditing. If we think about how this happens today at Abbott, we will typically go out to an external auditing company, and pay them a flat fee for their service as well as some sort of profit share on any money they recover. It's very much manual work, time-consuming and it happens a long time after the price discrepancies have happened. We believe that the data lake and AI (artificial intelligence) will change that. By bringing together contracts, SOWs, and how we use invoices, we're looking at identifying those discrepancies as they occur. We can then give a prescriptive report to a procurement person and say, go and address this immediately with the supplier. Taking that as an ROI, we then remove the auditing company over some time, and we believe we can achieve greater recoveries from our suppliers because we can do this in real-time as opposed to maybe a couple of years out."
The joys of hearing an ex-finance person qualify cost avoidance as a benefit.
Carl explains further that this is a big win for indirect spend. "If you think about indirect spend, it's complicated. You've got lots of people buying from it. The pricing models have usually not been stored in your ERP system which means the discrepancies can occur for whatever reason, using big numbers coming back from global reviews. Something coming out to ultimately automate this would be a benefit."
At Sony, they track these events as well. John believes it's simple. "If you took away the visibility the human team had today, I would have to answer that negatively. If I said to my procurement team that I'd take away their spend data, would you see how much you spend? If we took away the contract data, the AP audit (we do a similar thing), any AI, and anything else. How would a procurement professional justify their professional existence if you can't go to anyone and say, "this is how much you're spending with the supplier, and this is when the contract expires." It would be risky and a big step backward."
Sam acknowledges this point. "At Rosslyn, we have seen lots of businesses try to solve this problem either by looking at what is the cost if we don't do it or what is the benefit if we do it. What is the end approach to justify putting money into data that isn't sexy but should be?"
Furthermore, he explains that if it's the first time you're getting visibility of your data then there should be no question that you should be able to show an immediate ROI, because the first time you see that data you spot all sorts of opportunities, all sorts of savings opportunities and you should be able to recoup the cost of that data project almost instantly. The thing that I'd add to what John and Carl have said is that it's fundamentally all about agility. If the last three years have taught us anything, then it's that the firms that have a good foundation on their data, they've been agile enough to cope with various challenges that have been thrown at them. The ones that are still trying to wrap their arms around their data, for them it's challenging to make those decisions and to not be in a worse place. After the last two-three years of hindsight, for me, it all comes down to an immediate ROI and also to making sure that you have that agility too. If we do go into a recession or something else beyond that over the next few years, you have all the answers at your fingertips to make better decisions." 
Then Richard asked the audience to put their hands up in the air. "Keep your hands up if you've got your arms around your data. Some dropped – not a lot. Keep your hands up if you've got your arms around your spend data and your contract data. More dropped. Lastly, keep your hands up if you have your arms wrapped around your spend data, your contract data, and at least one of your environmental requirements." Lots more dropped but a few hands stayed up, showing an interesting picture.
Richard continues, "How long have we been talking about spend data? 20 Years, 30 Years? It's one of the three fundamentals of writing a category strategy. Understand your spend, understand your relationship with the capital that supplies it and know what your business wants. And we are still struggling with it."
What's your final advice for procurement teams?
Finally, the panel discussion ends with advice from the panelists.
Carl describes that when he started at Abbott, he had about 100 fires burning, so he'd go to the one that was blazing the brightest. "I didn't put out 100 fires in one go, so I picked the biggest, went to the users of the data, and found out what was driving their biggest concern and we'd start with that. And then slowly we worked our way through tackling the list of their major concerns, not the ones that we felt were concerns to the customer base."
John adds, "To get the things out of an ERP system like spend data, that's the easy part; you use a great tool like Rosslyn. But then with the value comes the hard part. After the initial setup of the system is the categorization. Understanding and not just having data and the support, but having data that means something, so you can turn it into good information to make decisions."
Sam continues, "We would start by getting all the data out and creating a data lake that provides visibility so you can start tackling your fires one by one by using the Rosslyn Platform. It's key to have this single source of truth as it will help you make those all-important decisions for your organization with minimal risk."
Author: Carina Hoogeveen, CMO at Rosslyn
Want to know what other challenges procurement leaders are facing?
If you'd like to learn more about how other organizations tackle their data lakes and start their firefighting, download the latest benchmark report from WBR, following a survey involving 100 CPOs.