Rosslyn launches new Rosslyn Platform to bring procurement data to life at speed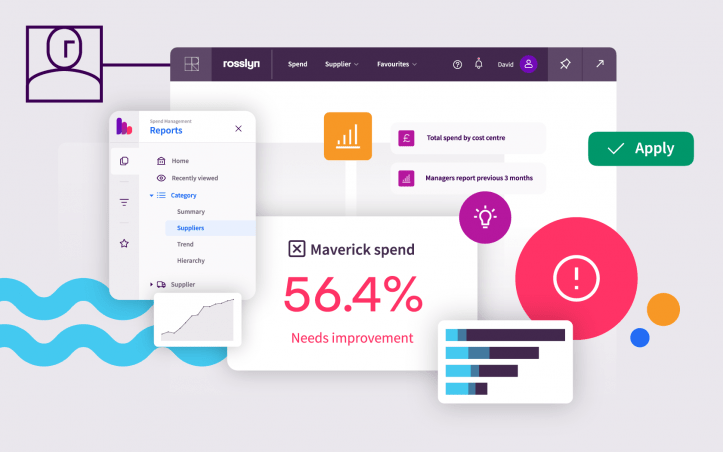 London 30 May, 2022: Rosslyn, the award-winning spend and analytics platform has today unveiled the latest iteration of its software platform, bringing an improved user experience and better access to data and visualizations than ever before.
The Rosslyn Platform helps organizations with diverse supply chains mitigate risk and make informed strategic decisions. It leverages automated workflows and artificial intelligence to extract and consolidate procurement data, providing visibility of complex supplier data, highlighting savings and delivering rapid ROI.
The new platform will continue to deliver a single source of truth for procurement professionals and stakeholders within fast moving organizations, bringing added enhancements notably, a closer integration between data and visualization through an intuitive user experience. Specialist teams within customer organizations, such as sustainability, legal or finance can have their own tailored view of procurement data. Sustainability teams for example would have a view tracking the environmental credentials of suppliers, or the carbon footprint of supply chains, whilst the procurement team will be focused on category data.
Commenting on the updated platform, Carolyn Dixey, Head of Procurement at De La Rue observed: "Without Rosslyn my job would be more difficult, I would find it harder to predict the impact of events and would need to invest more time and resources into our compliance agenda and would therefore have less time and resources to invest in our strategic priorities.  I can even see the benefit when it comes to retaining great Category Managers, as Rosslyn removes the frustrations around having to manually compile data."
A simplified, streamlined user interface is a core component of the updated platform, making it easier for users to quickly gather the insight they need and access information. Collaboration functions have also been improved, enabling the easy sharing of dashboards and reports with key stakeholders across a business, and introducing more opportunities to self-serve data.
"The volatility of the last couple of years has only re-iterated the need for business professionals across the board to get on top of their data," comments Paul Watts, Chief Executive Officer of Rosslyn. "Procurement data is not just for procurement professionals, and it is critical for any organization that a single source of truth is available to all influencing business spending, or in oversight roles. Our mission at Rosslyn is to automate critical business processes and analytics, helping organizations with complex supply chains to manage and understand data from multiple sources and improve the quality of their decision-making. Rosslyn is a key part of our journey on that mission, and we look forward to continuing to see our customers benefit from it."
Rosslyn has been well recognized for its pioneering work on innovating procurement's use of data, identified by Spend Matters '50 Providers to Know' in both 2020 and 2021 as a Solution Leader.