Rosslyn named a Solution Leader in Spend Analytics on Spend Matters' Fall 2022 SolutionMap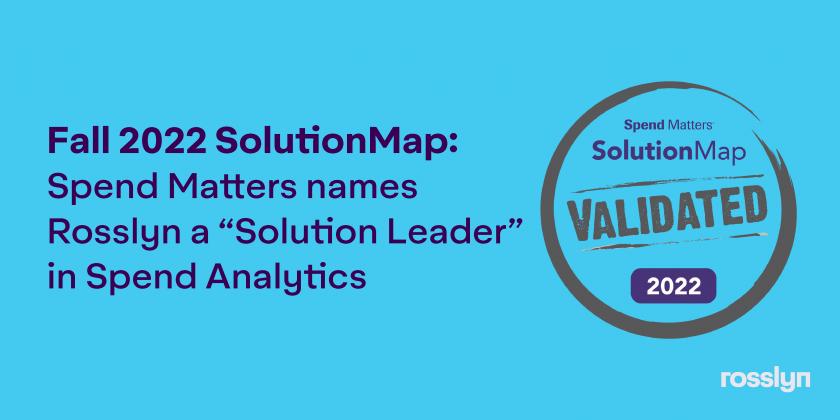 Rosslyn has again been named a Solution Leader in Spend Analytics in Spend Matters' Fall 2022 SolutionMap. This confirms our position as an industry leader in Mid-Market and Enterprise organisations for Procurement Analytics.
Rosslyn was evaluated against 16 other spend analytics technology providers and achieved above-average analyst scores across the board which put Rosslyn's technology ahead of the curve in comparison to its competitors.
"Rosslyn, as one of the oldest standalone vendors in the Procurement Analytics space, is an expert at multi-data source integration across multiple, global, ERP instances where each instance could be a different ERP system or versions." - Michael Lamoureux, Lead Analyst and Futurist, Spend Matters.
Over the past year, Rosslyn has seen plenty of change with both a Product UX/UI redesign and a new brand launch. Whilst both the product and brand are being well received by our clients, partners, and prospects, it's great to have this validated further by Spend Matters.
"At Rosslyn, we constantly strive to push boundaries, innovate and enhance how our enterprise-market and Global 2000 customers can mitigate risk, save money and improve efficiencies within their diverse supply chains," said Paul Watts, CEO of Rosslyn."Being named a Solution Leader for Spend Analytics again by Spend Matters in their 2022 Fall SolutionMap comes as no surprise and is a testament to how Rosslyn has been able to make continuous improvements within our premier enterprise procurement analytics platform, managing $1.3TN of data and addressing the most complex of environments, which enables our clients to make data-driven decisions with confidence."
Whilst it's been a busy 12 months, we are only just getting started! We have received some fantastic feedback from our clients on the new UI, and we plan to build on this momentum into 2023.
"Data is still a big challenge for many procurement teams. Connecting data sources and inconsistent data, only this allows visualisation tools to use data to make business decisions. Data is gold dust when analysing opportunities and making decisions, reflecting on the past and proving the value that procurement delivers to an organisation." - John Jordan, Head of Strategy and Planning Procurement at Sony and Rosslyn customer.
In addition to today's announcement, Rosslyn was recently included in Spend Matters' 50 to Know Procurement Providers list for the third year running, endorsing our pedigree in the procurement-tech space yet again.