Rosslyn named for fourth consecutive year in Spend Matters' '50 Providers to Know' list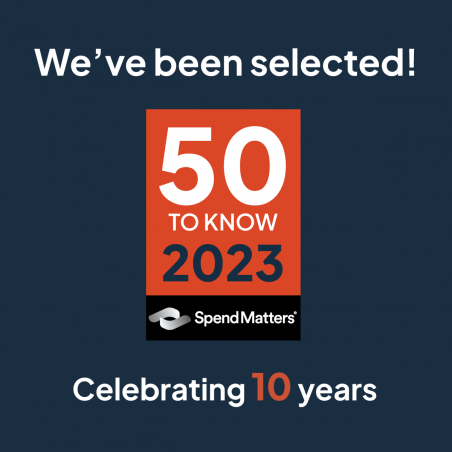 London, UK — October 17 2023 - Rosslyn (AIM: RDT), the provider of a leading cloud-based enterprise data analytics platform, is pleased to announce that it has been selected by Spend Matters, a leading intelligence source for the procurement and supply chain markets, for inclusion in its '50 Providers to Know' for 2023. This marks the fourth consecutive year that Rosslyn has been selected for the highly-regarded list of industry-leading vendors.
The '50 Providers to Know' list recognises the best-in-class companies in the procurement and supply chain market, identifying those who lead the charge on new procurement technologies and services, setting the industry standard. Vendors listed are independently selected by the Spend Matters analyst team, over multiple rounds of debate, focusing on factors such as innovation, market presence, tech competency and solution delivery.
"Rosslyn's service offerings are exceptional, including spend data management services, implementation services, systems integration services, training services, maintenance services and managed services," said Abigail Ommen, Research Analyst & Analyst Production Manager at Spend Matters. "Additionally, its ability to auto-type, format and analyse data automatically upon load is above most of its peers."
"Rosslyn's Spend Analytics Platform has been a game-changer for Sony and it comes as no surprise that they have been recognized again on Spend Matters' 50 to Know list," commented John Jordan, Head of Strategy and Planning, Corporate Procurement Europe, at Sony. "Rosslyn's Extract Studio and its data refresh capabilities enables us to gain visibility on spend, uncover valuable insights on savings opportunities, and efficiently hit KPIs, such as reducing supplier count. It's a vital asset to our procurement success."
"This recognition from Spend Matters is a fantastic endorsement of our new platform and the emphasis that we have placed on customer success," added Paul Watts, CEO of Rosslyn. "The demands on our industry are evolving, driven by the macroeconomic challenges of recent years and the proliferation of new technologies. At the forefront is the call for real-time intelligence and our strength in automation, which will be enhanced by the exciting development work we are currently undertaking with generative AI, is key to us being able to deliver this. As a leader in the procurement analytics market, we are committed to utilising our considerable experience to continue to innovate and deliver world-class solutions." 


Enquiries:
Rosslyn    
Maya Kimura, Marketing Manager    +44 (0)20 3285 8008
        
Gracechurch Group (PR)     
Claire Norbury/Anysia Virdi    +44 (0)20 4582 3500
rosslyn@gracechurchpr.com
 

About Spend Matters
Spend Matters is the leading solution intelligence source for procurement and supply chain professionals. Combining deep technology analysis and tailored advisory services with daily news coverage and subscription research, Spend Matters is trusted by CPOs, consultants, investors and solution providers alike as their procurement technology intelligence partner.
About Rosslyn
Rosslyn (AIM: RDT) provides an award-winning spend analytics and predictive analytics platform. The Rosslyn Platform helps organizations with diverse supply chains mitigate risk and make informed strategic decisions. It leverages automated workflows, artificial intelligence and machine learning to extract and consolidate procurement data providing visibility of complex supplier data, enabling supplier spend savings and delivering rapid ROI. For more information visit www.rosslyn.ai.