Rosslyn sponsors the flagship procurement event ProcureCon Europe 2022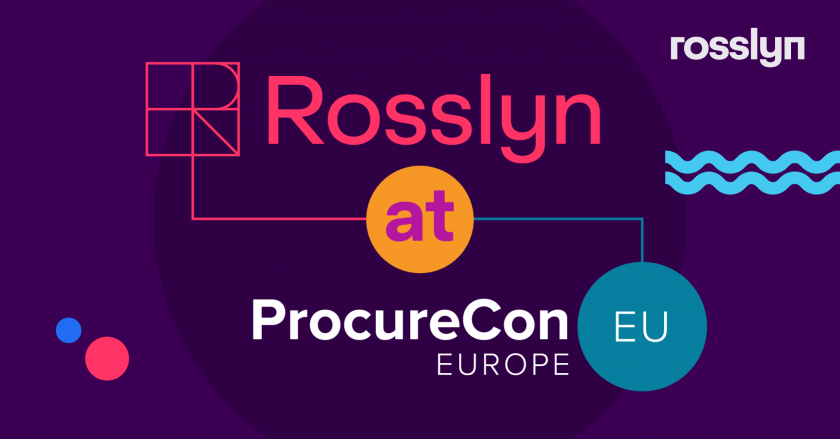 This September, Rosslyn is proud to be a sponsor of ProcureCon Europe, the world's flagship procurement event for learning and networking, which brings together leading CPOs and heads of procurement to discuss this rapidly evolving industry. It will be held this year at the Hyatt Regency in Barcelona, Spain, from 27-29 September.
As part of the event, our very own Head of Product Strategy and Solution Engineering, Sam Clive, will be on a panel with other industry leaders discussing proactive procurement: 'How can procurement benefit from the growing data landscape?'
As a long-standing spend and procurement analytics expert, Sam is responsible for the performance and development of the Rosslyn Procurement Analytics Platform. He works closely with existing clients, new prospects, and industry analysts to help shape the strategic direction of the solution.
Sam will be joined on the panel by John Jordan from Sony and Carl Maisey from Abbott, and we're thrilled to have Richard Beaumont of Bromley Wood Associates lined up to moderate. With the speakers' combined expertise and experience, this stands to be a hugely informative discussion, so don't forget to join us at 11:35am on day two.
Other panel discussions throughout the event will cover:
accelerating digitalization

achieving a robust supply chain

embracing digital procurement innovation

reimagining SRM

delivering on ESG and sustainability goals

and achieving supply chain stability
On day one, there will also be The Big Automation Debate where Eric Dubern, Indirect Sourcing Director, GE Healthcare (for) and Suneet Pandey, Global Procurement & Supplier Governance – Technology & Consulting, Lonza (against) will discuss whether procurement will, or even should, be mostly automated 10 years from now. Find us there supporting Eric!
You can download the agenda and buy tickets for ProcureCon Europe by clicking here. If you're attending the event we would love to connect with you - come and visit us at our booth (26), or book a meeting with us in advance. Contact us now!
In partnership with ProcureCon and conducted with WBR Insights, Rosslyn is also launching a benchmarking report prior to the event: Leveraging Data and Integrating Channels for a Seamless Customer Journey.
In Q2 of 2022, WBR Insights surveyed 100 Heads of Procurement and similar organizations across Europe to find out about the challenges they are facing in 2022, and the innovative solutions being brought to the table.
If you want to learn about our findings, make sure to download the report.
Image